Archive for
June, 2009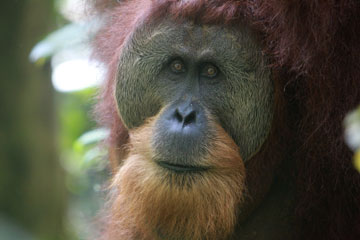 http://news.mongabay.com/2009/0630-debt-for-nature_indonesia.html
A glimmer of hope for Sumatran Orangutans, tigers, rhinos and other animals as much needed help comes in from the US to Indonesia to help prevent the loss of more rainforest. The U.S. will forgive $30 million dollars of debt owed by Indonesia in return for protecting their precious rain forests on the island of Sumatra.
"This is a huge boost for the people and wildlife of Sumatra, and demonstrates a forward-looking policy on the part of the US government," Jatna Supriatna, Vice President of Conservation International Indonesia, said in a statement. "The $30 million will help protect vital habitats and will also help deliver significant social benefits for the people of the island."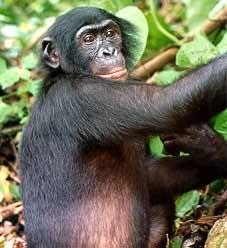 A group of 17 orphaned bonobos are being released into the wild for the first time this month. Set free by the world's only bonobo sanctuary, Lola ya Bonobo in the Democratic Republic of Congo (DRC), the bonobos will be released into a 50,000 acre (20,000 hectare) forest where the species has been absent for years.
The bonobos will be closely monitored for health and social problems as well as ecology. This is the first ever release of captive bonobos into the wild and we hope everything goes smoothly! Bonobos are not as well known as their ape cousins, chimpanzees. While similar in some respects, they have been shown to have different social dynamics and ecology. The release of these bonobos will help with scientific research which is lacking.
Article Here: http://news.mongabay.com/2009/0616-hance_bonoborelease.html
If you would like to help: http://www.friendsofbonobos.org/
http://news.bbc.co.uk/earth/hi/earth_news/newsid_8097000/8097545.stm
Male and female baboons form platonic friendships, where sex is off the menu.
CSUF Assistant Professor Nga Nguyen's latest research has been published by BBC. Nguyen and her team, Russell Van Horn of the Zoological Society of San Diego, Susan Alberts of Duke University and Jeanne Altmann of Princeton University, investigated platonic relationships among yellow baboons in Amboseli, Kenya. Using genetic testing Nguyen was able to determine paternity for 23 young infants whose mother was involved in a friendship. In half the infants the friend was the father.
That is highly surprising in one respect, because each of the females mated with multiple males around the time they conceived. "But of these potential dads, only the genetic dads became friends," says Nguyen.
"To my knowledge, human males cannot tell their own offspring from unrelated offspring, but somehow baboon dads can tell."
The big question though is regarding the other 50% of the male friends. What would drive a male to invest time in a female when he is not even a potential father of her infant? Nguyen suggests that perhaps they are advertising themselves as good parents to other potential mates.
Check out the article and look for primate classes taught by Dr. Nguyen this year at CSUF!